Our Story
(Before Machineco)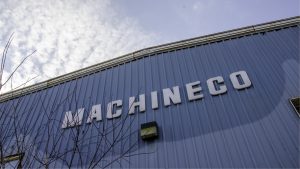 Well known Beatles song, " The Long & Winding Road " surely sums up the many twists and turns endured to bring you to today's Machineco. The trip was so crazy- a small documentary series was made a few years ago about our story- intended for TV and other media. The trials and tribulations might fill two books!  This business was founded by two brothers March , 1971- 50 years ago. Over the years we found ourselves also getting involved supplying as partnership- manufacturing composite skateboards, importing SS cutlery from India for the restaurant trade. Our facilities have often been used for T.V. commercials and movies.
in 1971, with five partners, I bought a business- for $600! – contents of a humble, decrepit, and tiny "junk" shop, situated beside a lumber yard- at 4112a St. Laurent.
The rent was $80/month. Sales were so bad, one month, gross sales were $60. We even sold used bicycle parts found there.
Needless to say, all the partners quickly became disenchanted with 'business' and were underwhelmed!
Within a ~year, I paid each of them off- from my shrinking savings!
Renamed, "Universal Tools & Equipment" reg'd, we sold drill presses, vises, air compressors, nuts, bolts, whatever was left over from the junk of the previous business.
Indeed the very DAY I opened, I found a brick and a yellow paper inside the front door.  The contents were seized- for a judgement against the previous owner!
Indeed, the main fruits of this endeavour for a long time was- hardship!
The days were long, hard and looking back, frankly- miserable. No one even ventured in for over three days, once!  Ah yes, pernicious perseverance despite numerous setbacks and problems- and with my new partner (the bro), it morphed into a real store- on Craig street. Then in 1974, having acquired an old boom truck, we moved into our first industrial overhead crane space, a small part of the old Hymac plant (circa about 1900) the Jacques Cartier bridge looming overhead. Many moves later, having blossomed into two corporations, (and lots more stories) in this bright new century, we find most of our inventory, in three Montreal warehouses.  Machineco et al has interior and outdoor machine storage areas, well over a football field in size.
All  is devoted to the "pre-owned" machinery business – today a progressive business success story. We hope you think likewise.
Sourcing and supplying good quality, machine tools, fabricating and related industrial equipment is still is our main concern. We want the customer to always be at least satisfied,
if not delighted with his purchase.   ALL items we sell are covered by a 30 day (at least) warranty against major latent defects.
A side venture related to used machinery business also expanded.  We discovered that those buying and selling machinery- were often expanding or contracting from existing premises.
This led us into industrial real estate – a world business that make dealing in houses- look anemic.  Developing industrial lofts in properties – demonstrated a hot new market that opened up
so much- our sister website  www.canallachine.com received more hits in only a few months, than total hits on www.machineco.com- since founding in 1999!
Ongoing success with burgeoning satisfied customers in many countries- and a small team of dedicated, experienced employees, allowed us to expand with global connections. Briefly, we even experimented with agents worldwide. Machineco dealt with famous international companies in both Europe and N. America.
We even became a Tier 1 supplier to the worlds top aero-engine builder.
Machineco's pre-owned, famous brands machinery has now been sold on all continents in over 20 countries. We deal with people daily from around the world. We saw international telcom originally by Telex, give way to fax and now market with action videos, and photos by E-mail and on other platforms. Machineco maintains an eBay store also Machineco staff are usually available for a chat about any machine problem you may have- and to suggest solutions, as well as to purchase or lease any machine.
(We even rent short or long term, commercial spaces sometimes equipped WITH machines in the Montreal area. Inquire. )
Feel free to call me personally, John Doak the founder, toll free 888-459-4025, anytime, 9am to 6 pm, weekdays to discuss your needs.
Cheers,
John Doak
MACHINECO